Chilli
Chilli Whole
Indian Chilies are the most famous in the world and have huge demand in the overseas market. India continues to be the main producer and exporter of most varieties of Chilli to countries like Sri Lanka,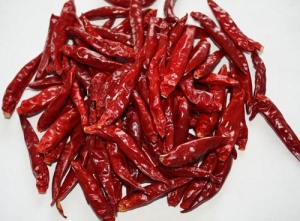 Bangladesh, Middle East, South Korea, China, Taiwan, Malaysia, Indonesia, Singapore, Turkey, U.K., USA & Latin America. Chilies have two peculiar characteristics in it, first is their color which is due to the presence of a pigment called Capsanthin in it and the second is its biting pungency which is due to presence Capsaicin in it. Chilies form an important part of curries and various popular dishes.
Some of the major types of Chilies available in India are
S- 334 (also widely known as S-4)
Wander Hot
Teja, Semi Bird Eye( Nalchetti)
Bird Eye( Tejapuri)
Wrinkled
Tomato
Byadgi
Kashmiri
S-9
Some of the major chilly producing centers in India are Andhra Pradesh, Tamil Nadu, Maharashtra, Karnataka, Rajasthan & Assam.
Standard Packing :- 25 Kgs / 15 Kgs /10 Kgs Nett In New Singe Jute Bags..
Quantity Stuffed in FCL :- 20 FCL-6.50 M.Tons, 40 FCL-13.00 M.Tons
Chill Pizza Cut
Kibbled Chilli is used around the world as a seasoning for pizzas & other ready to eat snacks.  We carefully select and sort the Chilli which is then dried and kibbled according to the mesh size preferred by the customer.
Standard Packing :- 25 Kgs / 15 Kgs /10 Kgs Nett In New Singe Jute Bags..
Quantity Stuffed in FCL :- 20 FCL-12 M.Tons, 40 FCL-22.00 M.Tons